Sign the Petition - fc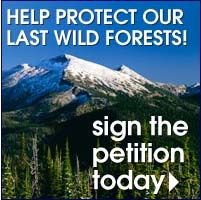 I strongly oppose the Bush Administration's recent decision to revoke the Roadless Area Conservation Rule and replace it with a burdensome and uncertain state petition process. Protecting the 58.5 million acres of National Forest Roadless Areas is a core responsibility of the U.S. Forest Service to all Americans. It should not be contingent on action by state governors.
The Roadless Area Conservation Rule was the product of a massive public involvement process that included more than 600 public meetings and generated more than 1.6 million comments from the American people. More than 95 percent of those comments supported a strong nationwide policy protecting all National Forest Roadless Areas.
More Americans supported the Roadless Area Conservation Rule of 2001 than any other federal rule in U.S. history. And more Americans opposed the Bush administration's rescission of that rule than any other rule revision in history.
The American people have loudly, clearly, and in great number expressed their desire that you protect the clean water, undisturbed wildlife habitat, and backcountry recreational opportunities our remaining national forest roadless areas provide. And they have made clear that they do not want more of their taxpayer dollars to go toward roadbuilding in wild areas when there is already almost $10 billion in existing maintenance needed on forest service roads.
The Forest Service's rationale for such a rule is as valid today as it was in 2001. It ended decades of conflict. It helped the agency direct resources to its priority responsibilities. It halted expansion of a decaying, 400,000 mile forest road network that has saddled taxpayers with a $10 billion maintenance backlog. And it assured that the broader significance of nationally scarce roadless areas would not be overlooked through local decisionmaking.
Therefore, I hereby petition you to withdraw the decision of Under Secretary Mark Rey, published on Friday, May 13, 2005, revoking the 2001 Roadless Area Conservation Rule and instituting a state petition process. I make this request pursuant to the Administrative Procedure Act, which requires each federal agency to "give an interested person the right to petition for the issuance, amendment, or repeal of a rule" (5 USC 553(e)). And please do not allow or reinstate any forest-specific exemptions from the 2001 rule, like the prior one for the Tongass rainforest.
Please promptly consider this petition and notify me of your decision, as required by 7 CFR 1.28.

Cross-posted at
fatcat politics
Technorati tags:
petition
·
liberal activism
·
politics
·
cronyism
·
bush administration
·
republican corruption
·
culture of corruption
·
forest